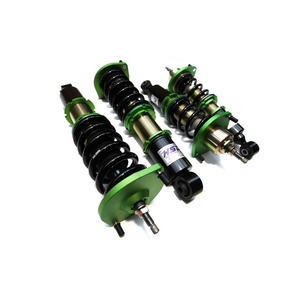 HSD MonoPro Coilovers (NA and NB, MK1, MK2, MK2.5 89-05)
HSD coilovers allow for separate ride height and preload adjustment, ensuring that you always have full damper travel no matter how high or low you set your ride height.

The MonoPro is the flagship of the HSD range, offering performance and finesse far beyond any other coilover kit in the sub-£1000 price range. The high capacity monotube dampers take both road and track use in their stride, with the 16-stage damping adjustment on each damper allowing you to fine tune your suspension setup to suit your personal preferences.

This kit is for Mazda Mx-5 Mk1 & Mk2 models only.

Main features: 16-stage damping adjustment, separate height and preload adjustment, pillowball front top mounts & rubber rear top mounts, anti-corrosive damper plating and rubber dust boots, 9kg/mm front springs, 7kg/mm rear springs.
Price: £795.00