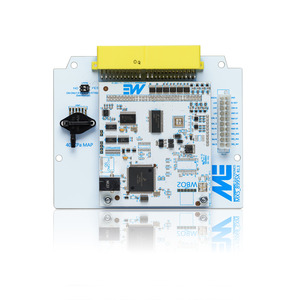 ME221 MX5 Engine Management (NA, MK1, 89-95)
The ME221 MX-5 PnP is the latest plug-n-play Engine Management System for the MK1 (NA)MX-5 / Miata. This is for cars from 1989-1995 which had two plug ECUs. Will not fit 1800cc 1996/1997 cars with three plug ECUs.

It supports the MK1 1.6 and 1.8 model from the same hardware the ECU installs tidily into the OEM position. The only extra thing you need to do besides plugging it in is run a MAP vacuum hose (supplied) from the ECU to the intake manifold and extend two existing engine loom wires to a new air temperature sensor if you choose to delete the air flow meter.

- Uses the ME221 ECU Core (200Mhz Freescale Automotive Processing Power)
- Supports all factory sensors.
- Truly Plug-n-Play : Supports both switched TPS and linear TPS conversions.
- 16x16 Fuel and Ignition Tables (with dual table switching)
- VE based fuelling algorithm.
- Run any type of high impedance injectors.
- in-built 21psi MAP sensor (or use your factory AFM)
- Closed Loop Boost Control
- Fully Sequential on 1.8 version
- In the field regular FW updates and improvements
- Uses the powerful MEITE tuning studio.
- Supplied with rolling road certified and developed base maps for either turbo or NA setups.

The package includes:
ME221 PnP ECU.
RS232 Tuning Cable.
Silicone map sensor hose.

You can add a set of four used RX8 yellow injectors to your ecu purchase by selecting them in the otions below. These 420cc injectors are very popular for turbo conversions.


Price: £645.00